There is a giant coffee mug that is touring the country trying to promote Genworth Financial's Long Term Care insurance. A fitting symbol for the insurance industry as many sales meetings take place in a home over a mug of coffee, however, I think it is also a fitting symbol for the whole issue of buying Long Term Care insurance. How often do we just have another sip of coffee instead of having that uncomfortable conversation? What's more fitting than if that big old coffee mug comes to Texas where everything is bigger there.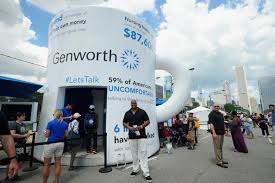 Nobody wants to get sick and yet it happens all the time. Nobody wants to be a burden on their loved ones, and yet that is so often the case. Families need to start having these conversations. Maybe you don't need to purchase a policy, but you have to make sure that you have looked over your options before you make that decision. How long can you self-insure? How much will be covered by medicare or Medicaid? It is only through discussing and exploring your options that you can find the right path. That line kind of sounds like a proverb, but it is very true.
This is a blog for an insurance broker's website, but is not here to push people into buying policies for coverage that they don't need. We only provide you with the information you need to make your decision. At that point it is up to you to read it over and talk it over with your loved ones. There is no salesman to twist your arm and you can take all the time you need. The best part is that we have brokers with years of experience in the industry that can connect you with the policies that are right for you.
I read about the Genworth mug in a paper from Virginia. I hope that this two-story mug will be the inspiration that people need to start talking about the future. I know that it is only going to be you the people that make these decisions, but sometimes you need an icebreaker. The big mug will be touring more cities next year and you can go have your picture taken with it. Or just get a free, and more proportional, coffee mug. It is a good way to find out more about Long Term Care insurance, if a giant inflatable coffee mug is your cup of tea.
The most important thing is that you explore your options and find a health care plan that meets your needs. For many people that will mean purchasing Long Term Care insurance and investing in their future. You can't find your plan until you start to look so contact LTC Texas today.